Greetings, readers! Happy belated holidays - hopefully they were awesome and you all had some fantastic food to keep you happy. Thanks for stopping by Fiction Fairies. Today I'll be reviewing
Blood Bound
, which is the second book in the Mercy Thompson series by Patricia Briggs.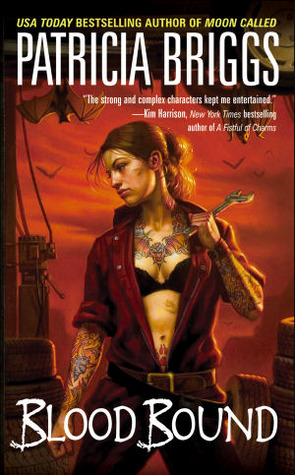 Under the rule of science, there are no witch burnings allowed, no water trials or public lynchings. In return, the average law-abiding, solid citizen has little to worry about from the things that go bump in the night. Sometimes I wish I was an average citizen...
Mechanic Mercy Thompson has friends in low places - and in dark ones. And now hse owes one of them a favor. Since she can shapeshift at will, she agrees to act as some extra muscle when her vampire friend Stefan goes to deliver a message to another of his kind.
But this new vampire is hardly ordinary - and neither is the demon inside of him.
Summary from Goodreads.com
Over winter break, I stumbled upon the genre of Urban Fantasy. And I was HOOKED. I have read countless books these past two weeks... No, honestly, it's scary how much I've been reading. I think I found my favorite genre! It's awesome.
(Can we take a moment to appreciate Ron Swanson and the amazing show that is Parks and Rec? If you haven't already, WATCH IT. The first season is slow, but it's fantastic.)
Anyways...
In case you're looking for some good UF books to read, I recommend the following:
The Kate Daniels series by Ilona Andrews
The Fever series by Karen Marie Moning
The Night Huntress series by Jeaniene Frost
And a lighter, funny read (that can be, at times, frustrating):
The Charley Davidson series by Darynda Jones
It is from this newfound obsession that I discovered the Mercy Thompson series. So far, it is extremely entertaining!!
The story is satisfying - enough action and mystery that readers are kept on their toes. The mystery is kept a mystery and it's hard to guess where it will go (at least for me). I never had the problem of knowing what the "big surprise" is. Patricia Briggs kept the details murky, so it was almost impossible to anticipate what the reveal would be.
The characters either charm you, or bore you.
For me, I enjoyed them and can see good stuff happening with the mix. Mercy is our MC and is a "walker" who can shift into a coyote, and also a mechanic. She's a tough, no-nonsense character who is hard to dislike. She lives next to Adam, the hottie Alpha of the regional werewolf pack. Samuel, another werewolf, is an old flame of Mercy's and recently moved to the area. As you can imagine, they have a love triangle goin' on... But somehow, it's not obnoxious or annoying. Mercy really doesn't toy with them or know what she's doing, so she sort of ignores their efforts. I'm interested as to how it all plays out.
Chris Evans as Dr. Samuel
Side note: I immediately imagined Samuel as Chris Evans. Don't ask me why, I just did.
The romance is pretty non-existent. I mean there are hints and whatnot, but the books mainly focus on the action. Being a romance fanatic, I thought this would frustrate me, but I think it works.
Overall, the series seems very promising and I know I'll be reading the next several.
If you have any comments to share, I'd love to hear them! Book recommendations are welcome too ;)
Kisses~
Cassie